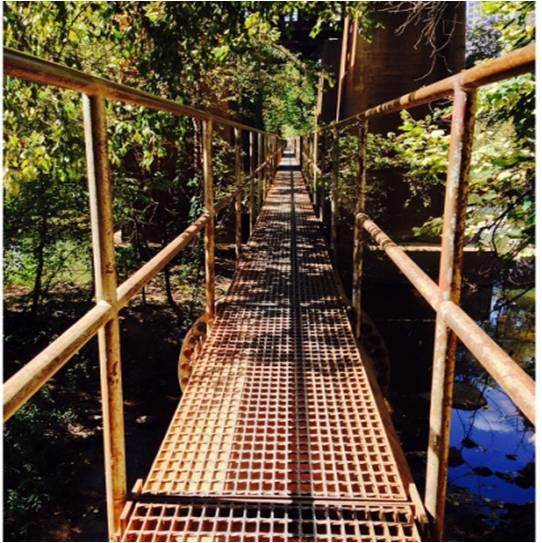 It's always refreshing when our mission of designing American-made items is reflected back to us through the U.S. landscape. While in
Richmond last month for Northern Grade
- a show centered on locally sourced merchandise  - we explored the local canal running through the city, built to source materials throughout Virginia and create a hub or local commerce.
The James River and Kanawha Canal was originally a pet project of George Washington (before he was president), in the hopes of making Virginia an economic powerhouse. The water system helped local artisans supply goods from one region of the rugged terrain through the next. His vision was to reach the Mississippi. Even after he died, building continued. They built 198 miles worth of canals before the steam engine and locomotives made this form of transport obsolete. (More
here
.)
In their time, the canals served a clear commerce purpose. Even rendered unnecessary in the face of 1830's steam engines, they were used in the Civil War. Richmond has revitalized some of them, and on top of their utility, they're quite nice to take in. Looking at them today, we see the spirit of what they aimed to achieve is still present. The canals have been restored in new and interesting ways beyond their original use: They have a lasting impact that's been passed down across generations. And they flourish in a city that seems to embody the principle of local commerce and preservation.
While in town for Northern Grade, we found Richmond has an abundance of reclaimed buildings that play with form and function to create lasting spaces. Local brand
Ledbury
's office is in a former tobacco warehouse, and the event itself was held in a former power plant, acting temporarily as a powerhouse for American products.
While our leather
bags
,
wallets
, etc. are not impervious to weathering, they're built to have a cross-generational impact: We think they look pretty good right next to the Richmond canal pipelines. (Customer Casey models our brush brown carryall).
You can read more about what we saw at NorthernGrade in our related
blog post
, and check out the all-American products we had on display in this season's Lookbook.