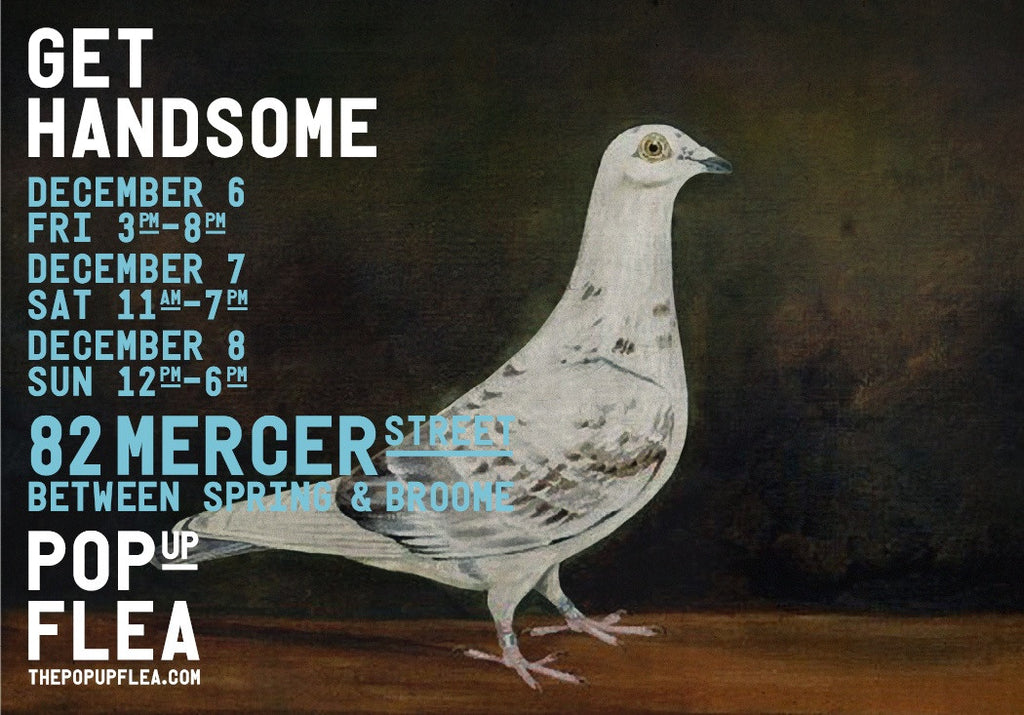 What if this year's holiday shopping - and much of your personal shopping for the year - could be done in a weekend? That's the thought behind menswear market the 
Pop Up Flea
. With its seventh installment set for this weekend in NYC's Mercer Building, PUFs' featured styles and merchandise are curated to fill every closet need, from shoes,
belts
and sweaters to
carryalls
and coats. The event unites stylish gents (and the people who shop for them) with an eclectic mix of designers over honest, well-crafted menswear. And the Flea is bigger this year than ever before. I had a chance to chat with Michael Williams, Pop Up Flea co-founder and creator of
A Continuous Lean
. Read on for what to expect at this year's NYC Pop Up Flea this year, and Williams' thoughts on why quality goods always go well together.
For the uninitiated, give us a Pop Up Flea primer: What made you and Randy Goldberg start this venture?
Randy and I were thinking about opening a store, but instead of opening a permanent store, we thought, "Let's open it one weekend at a time." Plus, people wanted to meet the designers behind the brands, not just merchants. It's a shopping event and also a meeting place.
Each Pop Up Flea is a vehicle to get the word out about good designs, and the brands that were there in the beginning took a leap of faith to do this with us.
When the event started, it was sometimes associated with American-made heritage: Do you think that's still part of Pop Up Flea's culture?
It's always been about the timelessness behind the brand. It's not meant to be precious or to focus so much on where things are made – it's about showing things that last.  We're interested in showing that everything quality works well together. What would everyone want to wear, and what won't ever go out of style?
We sort of think of it as, everyone good is there, and everything there is good. Good designs and good people. A lot of brands that come are friends of ours, and there's a good natural selection of a lot of well-made things. We approach the vendor list asking, "What brands would we carry at a store?" It's no such much a curation as how we would design our own closets.
If you only wanted to do one weekend of shopping per year, this would be a place where you could do it.
But you're running the Flea a bit more frequently now: You just had your first London show, and this year's NYC has the most vendors to date. How do you account for that growth?
There's a lot of good stuff out there: It's fun when you can get good brands and interesting people in one space. There's something for everyone, whether you just come by or you're there to shop. The London show was great.
For New York, we started with 12 vendors, and this year we have over 50 vendors. We're really excited about the group we have. And 82 Mercer is classic open space, a huge loft: We've had an eye on it for quite some time and we're finally at the point where it's a big enough event to support it.
What can people look forward to at this year's larger event?
We have some new vendors.
Steven Alan
is joining us for the first time, and
New Balance
and
Shinola
will be there. Shinola was with us in London – there is definitely some overlap. And we've also got some of the designers who have been with us since the beginning, like
Billykirk
.
I know this is Billykirk's sixth Pop Up Flea.
Honestly,
Chris and Kirk
[Bray, of Billykirk] are the perfect embodiment of what we want Pop Up Flea to be – the way they're involved in the company, their personalities. Having people come to the event to see their stuff and be able to meet them is perfect. The way they operate was part of what planted the seed for the event. We like what they make, we like what they stand for.
[See a preview of what Billykirk is showing at this year's Pop Up Flea here.]
What are your plans for Pop Up Flea in the future?
We want to continue to expand and bring it to new places. We're looking to add more cities next year, domestic and abroad.
Pop Up Flea NYC is perfectly timed for holiday shopping: Any must-haves for someone shopping for a stylish guy at the Flea?
I try not to shop at all! All I do is talk about clothes. But one of the ways I manifest all of that is by organizing this event. Everything there is going to represent the strongest collection of brands you'll find in New York City.
If you're in the NYC area, check out Pop Up Flea Dec 6-8 at 82 Mercer. Full event details here, and be sure to say hello to Billykirk.