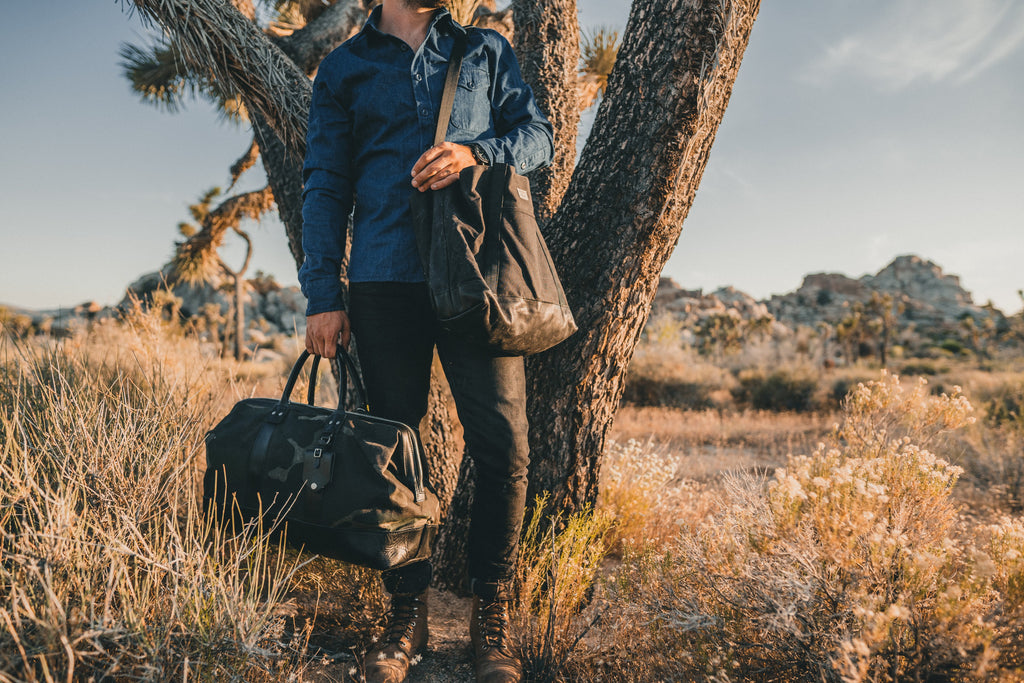 When we first formed Billykirk in 1999, we only had leather on our minds. However, within a couple of years we branched out and began making totes, carryalls, and pouches out of heavy duck canvas.  That was soon followed by waxed canvas, a material we grew up using in Minnesota for hunting and fishing. Duxback, L.L.Bean, Orvis, and Redhead were the predominant brands our father used, and they had one sole purpose: to keep you and your gear comfortable and dry. Waxed canvas was also durable, it wore in well, and could be re-waxed.
Another brand that I really aspired to have was Filson, but it was simply too expensive for a recent high school graduate. My friend Paul's older brother, Dan, had a decent paying job and started buying Filson clothing and gear for snowboarding and hiking in the early 90s. I was always envious of his large Filson gear bags as well as his 'Tin Cloth' jackets and pants.  I recently asked Dan a couple questions about his Filson gear:
How did you become aware of the Filson brand? 
Dan: I first noticed Filson at Burger Brothers Sporting Goods up in the "new" Woodbury Village Shopping Center in 1992 (Burger Brothers was sold in 1996 and soon after became Gander Mountain.) 
What was the catalyst for using Filson? 
Dan: I really appreciated their durability and the waterproof waxed canvas. My Filson gear never let me down. I also liked the generous cut. I would wear sweatpants underneath. I didn't wear a belt, only the Filson suspenders. That gave me full range of motion, and because the waxed canvas breathed so well, I don't remember ever being cold.
Did you know other snowboarders using Filson gear back in the early 90s?  
Dan: Over all those years, I never saw anyone else using Filson gear on the slopes. Although, my wife Elizabeth did remind me that some people commented on my Tin Pants in the chalet on that Montana trip to Bridger Bowl (photo below.) They knew what they were right off.
What brand of snowboards did you ride?
Dan: Burton Asym Air.

Dan wearing Filson Tin Cloth Pants, 1995, Bridger Bowl, MT

Dan and his Filson Tin Cloth Hat and Jacket, 1996, Seattle, WA
Dan's 25 year old Filson Waxed Canvas Duffle, 2020
When our first waxed canvas items came off the production line in 2003, Filson was certainly on our minds, but waxed canvas was still viewed as a hard-working outdoor material. In fact, Barbour, Belstaff, and Filson, arguably three of the most iconic waxed canvas brands in the world today, were not at all mainstream, and certainly not sold in boutiques in Paris and Milan.
So, to whom do we owe for this waxed canvas material that has captured our imagination and caused vintage collectors around the world to swoon?
To find that out, one must go back to the 15th century and jump aboard a huge sailing ship. In order to get their precious cargo from port to port in an efficient manner, sailors began using larger and larger flax or coarsely woven hemp sails.

A Naval Encounter Between Dutch & Spanish Warships by Cornelis Verbeeck, 1618
The seamen also quickly realized that wet sails traveled faster and could hold more wind. However, wet sails were heavy so they began testing out grease, tar, fish oils, and even bull's blood with varying degrees of waterproofing success. 

Sailors on the rigging. Photo by Alan Villiers, early 1900's
For hundreds of years, flax and hemp sails carried explorers, merchants, and military might millions of nautical miles. By the end of the 18th century, a clever textile mill — named Francis Webster Ltd. and later, Helly Hansen — discovered that when flax seeds were ground up to a paste, the flaxseed oil, commonly referred to as linseed oil (the first iteration of waxed canvas), could be used to coat the flax and hemp sailcloth, which prevented it from becoming soaked but kept it lighter in the heavy winds. 

Francis Webster advert
Helly Hansen factory
Though it was the chosen coating for well over a century, linseed oil was far from ideal. It cracked in cold conditions, lost its weather-resistant properties fairly quickly, and also turned yellow in time, leading to the traditional yellow of the fisherman's slicker.

Charles W. Morgan, America's oldest commercial whaling ship still afloat. Launched in 1841. Photo by A.E. Packard
A fortunate bi-product of sail repairs was the oiled sailcloth (oilskin). Sailors used the material to craft crude smocks and hats to protect themselves and keep them warm from harsh biting winds, torrential rain, and sprays. Interestingly, little changed in their design and formulation until the 1930s.

  Sailcloth scrap courtesy of the 
National Maritime Museum
 Archives

 Two Dutch Sailors by M. Archer, 1899. Note they're wearing oil skin foul weather gear and Sou'wester hats. Their beards were cut that way so rain and sea water would be caught by the beard and lead to the outside of the coat, rather than down the neck and into the coat.

WWI Sou'wester hat coated in linseed oil via @recovered_relics (sold)
Reefing the Sails by Christian Krohg, 1900. 
"It is not the ship so much as the skillful sailing that assures the prosperous voyage" - George William Curtis
When sailing vessels reached their peak in size and complexity between the mid-18th and early 19th century, often referred to as the "Golden Age of the Sail," these heavy oiled flax and hemp sails were becoming an issue for ship designers. These formidable merchant and war ships needed to be faster and lighter not only to gain an advantage over the lucrative trade competition but also for potential battle on the seas.

British clipper ship, Cutty Sark with sails set. Photograph by Captain Woodget, 1880's 
For centuries, sailmakers had been trying all sorts of sail configurations and had determined that the width of the cloth combined with the number of seams determined the strength and deformation resistance of a sail. That is why in the Middle Ages, sail and seam sections were more than twice the size as they were in the 19th century. It was also soon discovered that cotton was the perfect alternative to flax or hemp because it was lighter and stronger in large sail configurations. For large vessels, particularly in the United States, cotton was also used as a matter of necessity since it was indigenous and the supply of flax was periodically interrupted by wars such as the War of 1812.
However, the turning point for cotton sails came in the mid-19th century, thanks in part to the infamous 'tea-races' where companies were challenged to get their cargo from China and back to London as quickly as possible. Many of these tea clippers would stop off in Africa to pick up Egyptian cotton, which soon became a heavily sought after commodity.

Shipping on the Thames by Samuel Scott, 1740
A few industrious textile companies like Halley Stevenson, who at first relied on Jute and flax for their sails, recognized this growing Egyptian cotton sail market. They also were keen on the importance of waterproofing the sails. For many years, they, along with other textile mills, began to take the linseed application a step further and dry the linseed into wax and paint it onto the materials. While this made the material more flexible than simply coating it with linseed oil, more R&D was to come.
In the decades to follow, all these textile and refinishing mills would figure out a way to infuse the densely woven cotton canvas with paraffin, a waxy substance derived from petroleum. The benefit of paraffin, as opposed to linseed oil, was its excellent waterproofing properties, its ability to sweat vapor, and its tendency not to become stiff when melded with the fabric. Paraffin also didn't yellow as it aged like linseed oil.


Halley Stevenson Factory, est. 1864
Halley Stevenson Factory today with waxed canvas rolls ready for shipment
By the end of the 19th century, cotton finishing company British Millerain had nearly perfected their own paraffin-based waxed canvas. 
British Millerain workers via B.M. archives

British Millerain 140 year anniversary sticker via B.M. archives
Realizing the superiority of their pioneering wax treatments, Francis Webster Ltd. and other European textile mills began sending their woven and dyed canvas to British Millerain Co. Ltd., who would eventually provide the world with the first supply of paraffin-based waxed canvas for apparel. It was good timing because these large sailing vessels, with their huge expanses of canvas sails, had been losing ground to the quicker steamships since the Civil War. 
One of our very first Waxed Canvas items, the No. 196 Messenger/Game Bag. Launched in 2003.  The one above is used by our uncle, an avid outdoor and fishing enthusiast. Photo from 2014
Billykirk bags made with Plaid British Millerain Waxed Canvas, Fall 2005 & Fall 2010
OD waxed canvas with water droplets
While the days of large, cumbersome sails were numbered, the treated canvas innovations that were invented would soldier on. By the 1870s, forward-thinking companies like Helly Hansen were winning awards for their waterproof oilskin jackets, trousers, Sou'westers (hats), and tarpaulins made from coarse flax linen and coated in wax made from dried linseed oil.
In 1894, British clothing company J. Barbour & Sons, known today as Barbour, began to make their own version of oilskin material. These "Beacon Brand" oilskins that Barbour produced through the turn of the century were popular with farmers into the teens.
Barbour's Beacon brand label
Just like the linseed-soaked sails centuries earlier, the oilskin fabric became rigid and stiff in the cold and yellowed over time. It would be another 15 years before Barbour and others would perfect waxed canvas for apparel.

Barbour Beacon advert
Barbour Factory, 1940's via South Tyneside Council
Barbour factory floor
Just prior to WWI, an industrious Latvian chap named Eli Belovitch put his weatherproofing and fabric development experience into establishing a factory in Manchester, focusing on reclaimed fabrics and rubber. As WWI got underway, the British Army asked Eli to produce waterproof capes, groundsheets, tents, and other equipment for the cold and damp trenches the soldiers were enduring.
In 1924, Eli went into partnership with his nephew and son-in-law Harry Grosberg. They named their company Bellstaff — a combination of Belovitch and Staffordshire where the new company was located. Note the extra "l," which remained until the 1930s.
Belstaff Factory, 1965. Photo Lovatt Collection
Belstaff factory advert
By then, Belstaff was manufacturing protective, waterproof clothing for the growing motorbike industry using expertise gained during the war years. They claim to be the first company to use waxed canvas in the manufacturing of waterproof apparel for motorcycling — perfect timing in the era before it became affordable to own motorcars.
Motorcyclist wearing Belstaff, 1939 via Belstaff archives
During the 1920s and 1930s, advancements in chemistry and science led to the development of new mineral- and petroleum-based waxes, with higher melting points and different characteristics. This emerging technology put Barbour and Belstaff in the game as they helped usher in a new generation of treated canvas users. While Barbour appealed to gentry, farmers, and gamekeepers, Belstaff appealed more to sporting enthusiasts, like intrepid sailors and aviators.

Adventurer and pilot, D.H. Lawrence wearing Belstaff via Library of Congress
Both companies enjoyed great success with motorcyclists.  In fact, for three decades, Barbour supplied British international motorcycling teams with one-piece waxed suits, the "Barbour International." They have also outfitted the Household Cavalry Polo Team for nearly two decades.  And, of course, both brands have the distinction of having outfitted one of America's favorite icons of cool: Steve McQueen.
Barbour Wearing Motorcyclists via Barbour archives
Steve McQueen wearing his Barbour International Suit, 1964

Steve McQueen wearing Belstaff in the movie, Cincinnati Kid, 1965
 Simon Crompton's well-worn Barbour Jacket via Permanent Style
During WWII, waxed canvas was the British armed forces fabric of choice because it performed far better than the non-breathable rubber outerwear from the previous World War. 
Lt Cdr Philips wearing his Barbour Ursula suit, 1939
After the war, a lot of surplus waxed canvas military clothing and gear was sold off to Army & Navy shops, which gave this storied and time-tested material another life both on the streets and for all sorts of outdoor pursuits like camping, hiking, hunting, and fishing. If you're 40+ and your parents took you camping when you were a kid, you were likely sleeping under waxed canvas. 
From the high seas to high street, the lore and evolution of waxed canvas is almost as enticing as the material itself.  I know we've been enthralled with it since slogging through duck blinds in southern Minnesota as teenagers.
With the exception of leather and raw selvedge denim, few materials take on the character and patina that waxed canvas does. While it does require a bit of TLC now and again, we wouldn't change a thing.
Billykirk No. 479 Khaki Waxed Canvas Carryall, Joshua Tree, CA Photo by Sara Combs, 2020