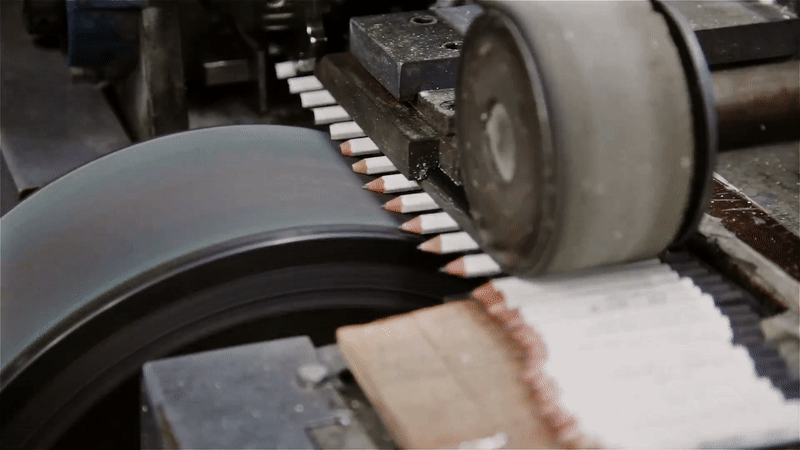 Musgrave Pencil Company is a family-owned pencil factory founded in 1916 and located in Shelbyville, Tennessee. When we were searching for a pencil to include with our No. 231 Journal, we came upon Musgrave. Being a history buff and also from Tennessee, I knew right away that we would be ordering from them. Now, over ten years later, they are making a new custom golf pencil for our No. 580 Scorecard Holder.
I had the opportunity to speak with Henry and Harper Hulan, the father-son team who are members of the family-run board of directors at Musgrave. Later on in the interview, I speak with Studio Delger an independent graphic design and marketing practice based in Nashville, Tennessee who has been helping to spread the word about Musgrave. 
Harper and Henry Hulan of Musgrave
It must be extremely gratifying to continue this family tradition. Our company is going on 22 years, but when you've got 105 years under your belt, that is really an accomplishment to be proud of. How do you even describe that sense of pride you feel?
We do feel a sense of pride but also of humility. For so many years, we were able to "white label" products and sell them upstream, here in Shelbyville. We did not really need to connect with customers outside of the state or outside of a few key accounts, and we did not need to think about developing our "brand." But the global economy evolved, and we have had to evolve as well, maybe a bit slower than we ideally should have. We are certainly proud to be one of the last domestic pencil manufacturers in the United States, we are thankful for the reception that our brand has received within the context of our community here in Middle Tennessee, and we hope to continue our path for another 100 years! We have also recently had a number of collaborations with really great brands (like Billykirk!) that we are very proud of. It has been so great to work with Studio Delger and get the word out that we are here, dedicated to producing in Shelbyville, and we are so thankful for our fans and customers. 
Musgrave pencils are heat-foil stamped just like our foil embossing
I know Asian manufacturing has taken the wind out of a lot of U.S. manufacturing, but I am optimistic that the generations coming up are becoming more mindful of waste, how things are made, and where they are produced. Also, with Studio Delger getting out the word to a new and well-informed audience, have you seen a shift in buying habits
I think that "telling our story" has been so critical and also feel that we have been very open and transparent about our manufacturing process. It has been awesome to see folks step up and support our brand. Though we cannot discount the importance of an interconnected global supply chain, the imported pencils from overseas have hurt us. I think our history, the fact that we employ real folks in Shelbyville, Tennessee, and given we are committed to a future here does make a difference. Studio Delger has helped us to leverage new technological tools and social media and refine our ecommerce practices to reach new fans and to help show that we are unique, that we are rooted in history, we are producing here, and we intend to continue manufacturing pencils in Shelbyville for future generations!  
The imprinting machine applying foil to each pencil
It really is disheartening when a company with stockholders has to be so penny-pinching when it comes to something as low-cost as a pencil. We're not talking hundreds and hundreds of dollars in savings for the companies and institutions. What percentage of sales has been due to this cheaper and often inferior product, and what are some of the ways you have pivoted to stay in business?
That's a tough question! There are so many expectations these days around getting your product the next day at the lowest cost, and a lot of big jobs and RFPs by other folks are fulfilled by purchasing the lowest priced SKU from the largest global retailers. I think our story, the fact that we are made in the USA, and history have helped us tremendously. We also have a lot of flexibility that other manufacturers do not have; we can run orders of practically any size and can pretty much do anything with respect to pencil type, core, color, imprint, etc. Additionally, we are not in any way wedded to one pencil type, and from standard to jumbo to golf, we've been able to supply a wide range of industries as our economy has evolved. 
Caps being applied to the our Golf pencils
Finally, I know what I like about Musgrave (sharp-edged hex pencils, authentic letterpress printing, quality wood, and U.S. made), but could you give our readers your top reasons why they should order from Musgrave?
We employ about 80 people here in Shelbyville and have employed thousands over the course of our history. We've been offered to be bought out many times, but we've always stayed focused on the people we employ and the community we support. It's easy to say "Buy American" without much thought around the deeper story behind it, but we hope that our story and history help to show folks that by making a small investment in USA-made pencils, it's worth it (it benefits our community, helps us to provide insurance to our employees, and helps us to continue producing). So we hope a top reason would be made in the USA, and secondly we hope people support our story and are willing to invest in a piece of history! 
Capped pencils entering the tipping bin
Questions for Studio Delger. Run by husband and wife team Tim and Nicole Delger, they make beautiful things for nice people.
When did you start working for Musgrave, and how has it been working with such a revered and long-standing company?
We started working with Musgrave about three years ago. Harper Hulan, who is the great-grandson of the founder and a member on Musgrave's board, had reached out to us about creating a new brand identity and website. Even after just a quick search, we knew immediately how special the company was and what a tremendous creative opportunity it was. 
The company at the time was doing pretty well, but the brand was suffering, and the level of brand awareness by folks was in really rough shape. Here you have a 100+-year-old company making a majority of the domestically made pencils in the U.S., and hardly anyone knew about them. 
For us, working on this brand, it was like getting a treasure box where we have been able to pull out each piece of history. It might be a pencil that went out of production that we helped revive, an old manufacturing material or technique, or even a photograph of an old delivery truck from the '50s with typography that inspired our choices in the present. There was more than 100 years of history to dive into. And Musgrave's brand was so authentic and rooted in history, it was really cool to work with.
Musgrave has also given us a tremendous amount of trust creatively. When a client trusts you and doesn't question your design choices, you feel 1,000 times more motivated to make the work that much better and special. We get to take them through our ideas and openly share what work we recommend. So rather than feeling like you're presenting a choice they'll make at random, we feel like we get to present how we came to the best choice possible and take them through iterations, directions we played with, and where we landed. Really, you just can't beat that kind of client dynamic. 
When you're little, you think, "Who gets to name the pencils?" — and in a small way working for a company like Musgrave feels like we're getting to do that each time we develop a new line of pencils or revive something from their vintage line. It's a relationship we value tremendously, and as our Studio grows, Musgrave will also be a crown jewel in our portfolio of clients.
Musgrave employee inspects each pencil for quality
Were they pretty receptive to your ideas on shaping their social platforms? Old companies can be set in their ways..... I know Henry Hulan III is the grandson of the founder and still works there, so did he take some arm-twisting?  
The board we answer to has a tremendous amount of buy-in and enthusiasm for what we're doing. Henry Hulan, who has been at the helm of the company for almost 60 years, is a joy to be around, learn from, and work with. He loves showing off the posts we do on social media to his friends! The only complaint I've heard from him is that his friends who follow us wish we'd post more. 
On the days when we get to visit the factory and we walk up, you can smell the wood shavings and hear the hum of the pencil machinery. It's really pretty magical. The social content makes itself because the pencils, colors, and wood moving through the machine look incredible no matter the angle. We really try to capture that magic in social media, and our fans and customers love it.