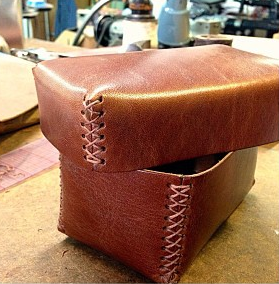 The logic behind wrapping gifts feels flawed: Spending time putting something together that's intended to be ripped apart. So we're putting together something that you'll want to save. Hand-stitched, American-made leather boxes.
These are in the works, and may be available in more colors soon. You won't find them on our site, but can request orders by contacting us.
If you're last-minute shopping for this holiday season, be sure to check out our stocking stuffer ideas, as well as our
seasonal bags
and
menswear ideas
.