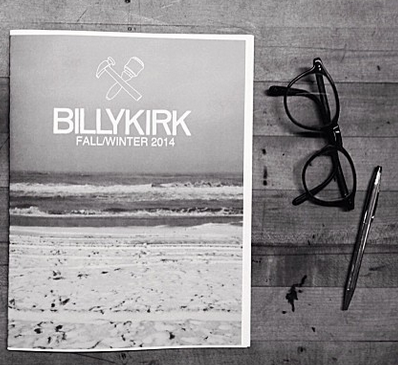 The biggest New Year's resolution for writers (in 2014 and in previous years) is simply to write. Whether 80 words or 8,000 words, daily writing is essential – and it's something a writer can only do for himself. But I know plenty of loved ones want to find the perfect way to show support of writers in their lives – and fancy pens seem to be the go-to gift. They're beautiful and functional, but they're also arguably one of the least practical, most-gifted items given to writers during the holidays. Anyone who enjoys writing - whether prose or correspondence – should own a nice pen, but no more than one really fancy pen is needed.
There are plenty of nice everyday objects that can help organize and inspire the authors and wordsmiths in your midst. As someone who writes and edits upwards of 3,000 words a day, I looked through Billykirk's online collection and found four beautiful and functional gifts I think any writer would appreciate to start the New Year.
1. The leather journal holder
A welcome alternate to a book with blank pages, this
journal holder
adds a nice facelift to the notebook your friend is already working her way through. Sized to easily fit in a backpack, purse or satchel, it's perfecting for jotting down ideas on a train, park bench or wherever inspiration strikes, and a pen will always be handy thanks to its built-in pencil-holding clasp.
2. The schoolboy satchel
The
leather schoolboy satchel
looks important, but not pretentious. It has a timeless nostalgia, seeming to be something Hemingway or Anne Patchett would wear with equal delight. And it would look smart on anyone who aspires to be professionally creative. With compartments that can easily fit a portfolio or manuscript, a laptop and whatever magazine or book a writer is reading in a given moment, it's practical - while also a nice way to dress for the job you want.
3. The pencil case
Great to stash in or on a desk, keep in a leather satchel  (ahem, see gift idea No.2) or tuck away somewhere with a reserve of those aforementioned fancy pens. The pencil case is a simple-but-handy gift, unassumingly stylish in worn-in canvas, which also helps absorb the mess of any ink leaks. Plus, someone in a writing profession is always the first person expected to have a writing implement on hand: He'll always know where to find this case and look super on top of the pen situation.
4. The canvas iPad sleeve
While I'm admittedly not inspired by the thought of writing on tablets, friends are increasingly citing this as the journal of the future. Especially those working as on-the-ground journalists. Many of my friends who write have put iPad sleeves on their wish lists this year, and I think this olive one is a great option. While I also like the Billykirk version available in leather, the canvas one would nicely fit inside a larger satchel – and it still looks good as a standalone carry item.
These are great tools to add to a writers' kit, and here are some reflections on writing to get pens moving and keyboards tapping in 2014: