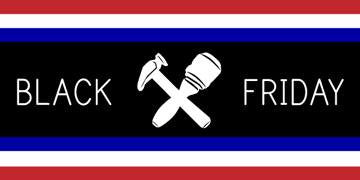 Supplement your family's holiday traditions with goods from our family's tradition of U.S. made leather bags, belts, wallets and more. This Black Friday, November 29th, we're offering 20 percent off on our entire website – no Billykirk discount code needed.
Here are a few of this season's most in-demand items you can gift your loved ones (or yourself) this holiday.
Our Black Friday discount details:
Billykirk's entire site is 20 percent off, from midnight to midnight on November 29th
Orders of $150 or more that include belts, bags, backpacks and other items from our Sales section are eligible to receive a complimentary leather wallets and U.S. made iPad sleeves
Spend more than $150 (including Sales items) and receive a free No. 302 Small zip pouch
Spend more than $250 (including Sales items) and receive a free No. 301 Large zip pouch
Spend more than $350 (including Sales items) and receive a free No. 308 iPad sleeve (shown below)
A little note on the origins of Black Friday
Whether you're also braving store fronts or staying in at the computer, we're happy to provide 24 hours of Billykirk discounts through our site.  While it can be fun to head into stores, we also hope some appreciate an alternative to shopping in streets "black with traffic" ...
"Black Friday" was first coined in 1951 to describe how manufacturing offices shut down, with employees taking the day off for holiday shopping. It gained mainstream use in the early 1960s after Philadelphia police officers described one of the country's biggest shopping days as the city's worst traffic day. "This day was black with traffic." It has alternatively been called "Big Friday," as the biggest shopping day of the year.
Be sure to keep an eye on our Sales section, as we're adding new items every day between now and the 29th.