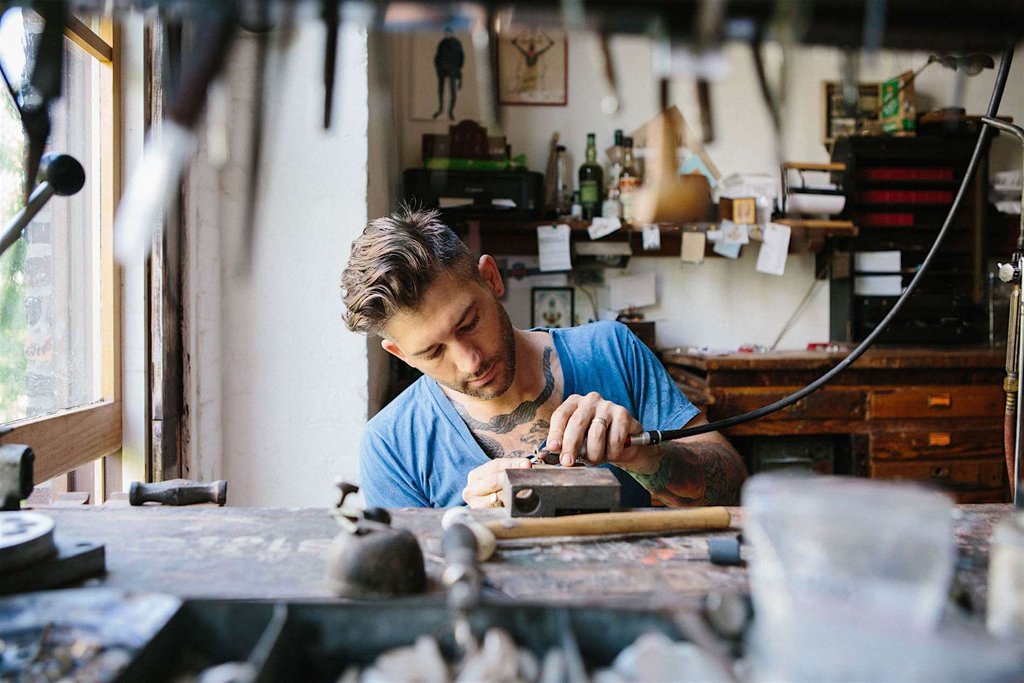 At Billykirk we often meet other makers doing awesome things. One maker we have had the pleasure of working with is jewelry designer and craftsman, Aaron Ruff of Digby & Iona. Aaron and his capable team of artisans have helped to develop a number of custom items for us over the years, from bag hardware and key tags, to our solid brass Round Tuit Coin. I recently posed a few questions to Aaron to shed some light on him and his ever growing jewelry brand.
Tell us a little bit about yourself, the name Digby and Iona, and what set you down this creative path?
I was lucky enough to be set on the creative path from a really young age, my father was a carpenter and I grew up in rural Maine so I had a lot of time and tools to play with and spent a lot of time in his woodshop messing around. The company name was created as a ruse to make people think there was a Charles and Ray Eames design power couple behind the line, at the time I started the company I was a carpenter myself and didn't think that people would take it seriously if they knew it was just me.
I know D & I is rooted in hand-carving, tattoo culture, antiquities/curiosities, and the sailor motif. Where does that interest come from?
The strong rooting in hand craft and maritime culture again comes from my childhood in Maine, all the pieces I create in this vein are based off real antiquities like scrimshaw that I had no hope of ever owning (whether they're in museums or just wildly expensive) so I chose to make them for myself.
Can you expand on the lost wax carving process and why you value it over 3D printing?
At heart, I am a traditionalist and always prefer to make everything by hand, but I have no problem using 3D modeling and printing as a resource if my vision exceeds my own craft as long as it remains just that, one tool of many. It can definitely be a slippery slope and these days a trained eye can easily pick out entire jewelry lines that have the 'CAD look' devoid of any hand craft. While we use the lost wax casting process for all our production, for prototyping new work we hand engrave into silver prototypes rather than wax carve. The hand engraving directly in silver gives the high level of detail you see in the signet rings.
What are the favorite pieces in your collection currently?
As I go deeper down the rabbit hole of custom engagement rings, my favorite is always one of my most recent pieces. I've just started sourcing rough sapphire from Montana and cutting it in NYC. This is the first time I've been part of the process for everything but the mining, so all the pieces I'm creating from these stones tend to be my favorites recently.
I am also interested in hearing more about your salt and pepper diamonds. There's a raw honesty to them that I really find appealing and when set in your recycled gold gives these pieces a medieval, "Game of Thrones" vibe. Have you witnessed a trend with the G.O.T fans or am I off my rocker?
The salt and pepper diamonds are a personal favorite. Until recently these diamonds were considered for industrial use only and mainly ground down for use in products like saw blades (a tragedy). Each is unique and has its own character, so I find them a lot more exciting than a traditional white diamond. I started using these diamonds and gearing my designs toward medieval reference just before GOT really got a foothold; so I suppose it was just lucky timing, but I've definitely seen a lot more references to it when people see my work. That said, my dream job would be designing accessories for the characters of that show.
Who are your mentors and what other jewelers do you admire?
My first jewelry teacher, Rolando Negoita who was an incredible old school interdisciplinary craftsman, has been my greatest influence in the craft. He told me 'you should be able to make a whip from shit and it should crack' and the ethos of that has always stuck with me and in the way, I run my workshop and my designs. In contemporary jewelry, I have the greatest admiration for fellow jewelers that have carved out such a unique design sensibility no one can touch what they're doing, people like Polly Wales and Nick Potash.
What would you be doing if you weren't creating jewelry?
Likely digging ditches. After 10 years I'm not really qualified to do much else than this.
I was listening to Serial's most recent podcast, "S-Town" and the host mentioned an old Latin sundial motto, "Vulnerant Omnia, Ultima Necat" which translates to, "each wounds, the last kills." In other words, each passing hour wounds until the last one kills us. After all, time is a gift but in a way, it's a curse. Any chances that phrase might make its way onto one of your superb signet rings?
I've always loved this quote and actually used it for a signet ring design a few years ago, although I reinterpreted the quote with arrows rather than hours in the day. But I never knew the original was from a sundial.
To see more of Aaron Ruff's work, click HERE