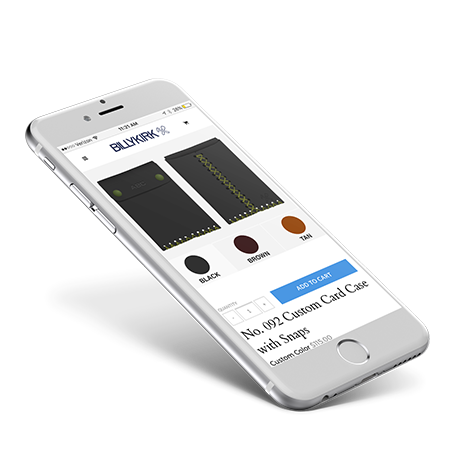 Custom work has long been one of Billykirk's greatest strengths. Whether stamping a tray with initials or sewing up a custom card case at the Pop Up Flea, we've always been fans of personalization. But as a small, primarily online company, we've had a hard time translating our custom options to the Billykirk website.
Of course, at events like the Pop Up Flea, these personalizations are apparent as you literally see Chris and Kirk make it right in front of you! Different colored threads, leather, and hardware line the table in front of the classic Kingsley Foil Stamping Machine, heated and ready to stamp your initials into a card case or luggage tag of your choice. To make things easier at these events, Chris and Kirk created the first version of Billykirk's custom options:
Simple but extremely effective, this sheet of paper categorized the options you could choose from, including leather color, cording color, snaps color, monogram, foil fonts, and embossing options. This simple sheet evolved into the first online versions of the Custom 155 and 92 Card Cases seen below.
While this finally brought our custom card cases to the web, it didn't provide any sort of visual representation of the finished product. When Billykirk first launched the retail website, sites like NIKEiD and Van's Customs were just gaining traction, and the notion of a smaller company paying for that type of software just wasn't realistic.
A year ago, we decided that the Billykirk website needed a serious facelift (which is live by the way!). With that redesign, we wanted to create a more visual custom product experience. We discussed options and began drafting out ideas that would be feasible and affordable. Looking at other custom sites, 3D renders or real product image overlays seemed great, but they were scary expensive. After almost giving up on the project, our designer Connor and I discovered how we could use Scalable Vector Graphics (SVG) instead.
While Connor created the digital illustrations of our 092 Card Case, 155 Card Case, and 146 Luggage Tag, I began working on the code that would allow the user to see the custom options live on the Billykirk website for the first time. The photo of the No 146 Luggage Tag seen above was customized and rendered in real time on its product page, a sight that brings a tear to our sore eyes.
We also began adding visual embossing to our normal product line. This feature overlays your initials directly onto the product in the spot it'll be when you receive your item. Currently it's only on our trays and small leather goods, but stay tuned as we add it to the entire line!
Bringing Billykirk's custom work to life on the web has a been a great opportunity. I hope we'll have the chance to expand the custom line even further with more products. In the meantime, try out the new custom card cases and luggage tag. We'd love to know what you think!